A tour through the Smart Hospital Care Pathway Engine, the soul of the AICCELERATE project
4 - October
The aim of the project is the deployment of Artificial Intelligence solutions that allow hospitals to improve efficiency and the quality of patient care. These solutions will be based on predictions coming from the SHCP, the AI-based Engine of AICCELERATE.
The SHCP predictions will be driven through a variety of functions, from patient diagnostics and treatment at the care facility and at home, as well as hospital patient and workflow optimisation enabling enhanced efficiency for hospital management decision-making. Additional input sources, through the use of robotics and sophisticated IoT devices, will help to increase the accuracy of the predictions of the SHCP Engine.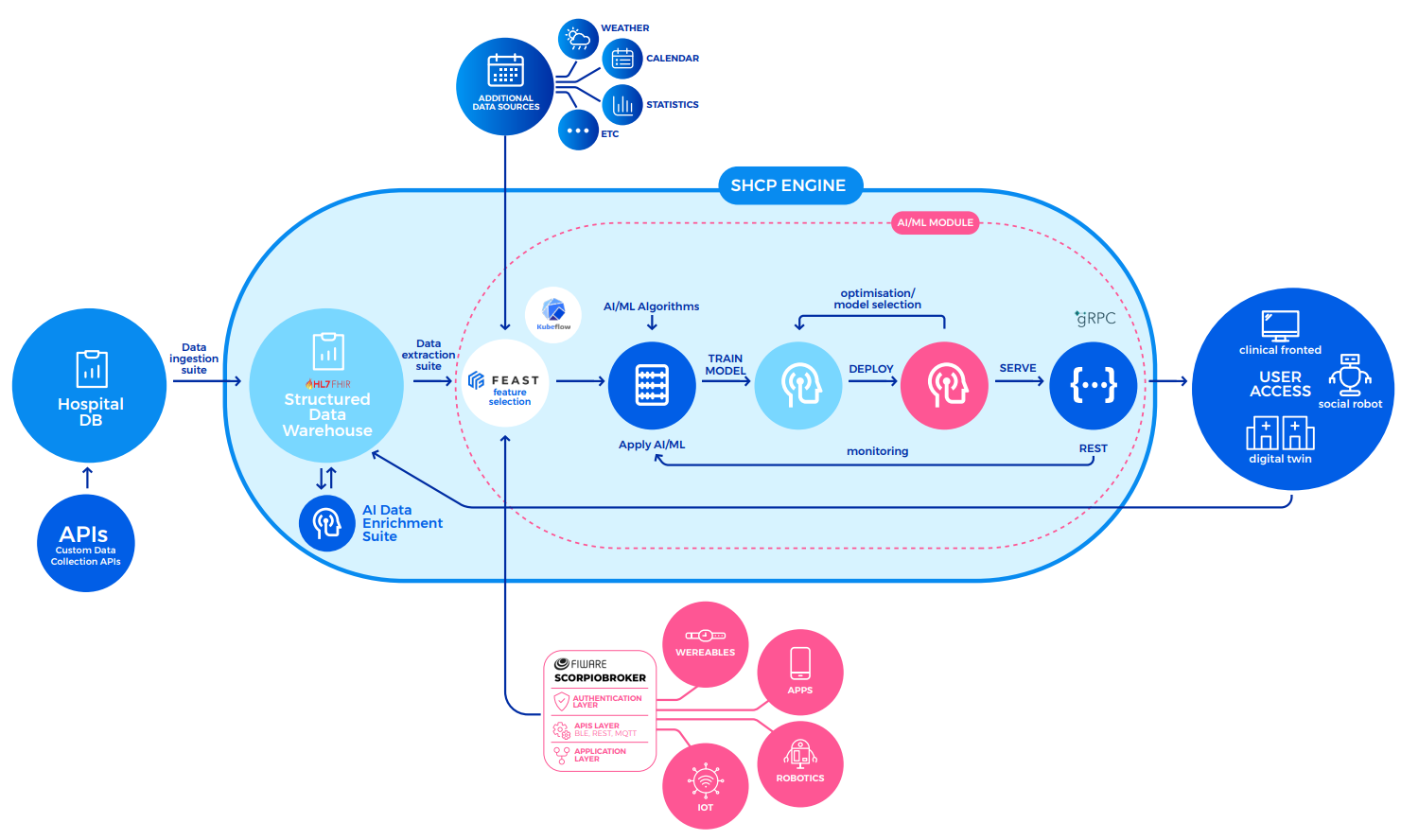 How it will work
Inside the SHCP Engine will be stored and classified all the necessary data for the deployment of the 3 pilots of AICCELERATE. The data input sources will include not only patient and hospital data –clinical data, patient history, room availability, etc.—but also other collected, using robotics, sensors, wearables, and even external data not normally contemplated such as weather conditions and statistics.
The SHCP Engine, based on advanced machine learning models, will provide then, a valuable sound-based output to improve the patient care pathways together with the hospital management. It will also enable lean management and effective decision-making. The tools will be tested in three different pilots, in Finland, Spain and Italy and will provide feedback to improve the SHCP Engine's performance.
AICCELERATE will visualize the hospital of the future. Hospitals' dynamic operations and processes will be visualized through Digital Twins and AI data-driven models will lead to an improved decision making and healthcare delivery.
The architecture of the engine
The architecture of the SHCP Engine is based on principles which are driven by enterprise-wide business goals and hence intend to support the delivery of business value and increased quality of service.
Within the SHCP we define the following components:
FHIR Data Warehouse. This is the Data Warehouse of AICCELERATE, which is designed to be an HL7 FHIR repository.
AI Data enrichment Suite. The AI-Data Enrichment Suite is designed to provide the first iterations of pre-processed data sets for further optimization of analysis and processing.
Data Extraction Suite. This is the interface that provides data from the FHIR Data Warehouse to the AI/ML modules.
AI/ML Module. Perhaps, one of the most critical modules of the referral architecture in terms of realization of the project's objectives. It contains the machine learning pipeline which will provide the predictions and recommendations for the demonstration of the 3 pilot use cases.
Early detection of the advanced stages of Parkinson's Disease
Parkinson's disease is the second most common age-related neurodegenerative disorder after Alzheimer's disease. According to NHS, around 1 in 500...
See more
AI in healthcare: ethical and legal challenges
AI in Digital Health is happening NOW We have seen it in movies and TV series but also in futuristic...
See more