Join us at MEDICA Trade Fair for a workshop on AI and Robotics technologies in healthcare
16 - October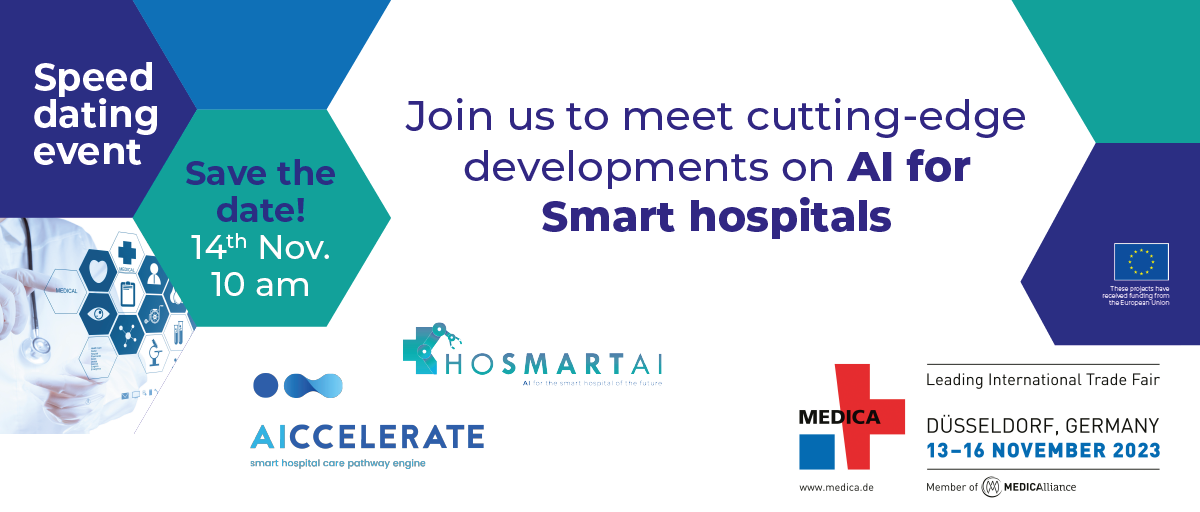 It is our pleasure to invite you to an exclusive workshop on Artificial Intelligence and Robotics technologies designed for future deployment in hospitals and care centres, jointly organised by EU-funded projects HOSMARTAI and AICCELERATE. It will take place on Tuesday, 14 November 2023 (10:00 AM to 12:00 PM) at the MEDICA Trade Fair in Düsseldorf.
The workshop is aimed at decision-makers working in hospitals or specialised healthcare centres (hospital directors, chief information/operations officers, senior IT managers and project managers, buyers, etc.), companies developing AI and robotics technologies applied to medical environments (interested in collaboration, e.g. by integrating or further developing the solutions), telemedicine / virtual care providers, as well as other digital health stakeholders interested in learning about the real-life use cases developed by the project partners.
The ongoing large-scale pilots are currently implementing and evaluating AI-based solutions to improve:
Medical diagnosis
Surgical interventions
Prevention and treatment of diseases
Support for rehabilitation and long-term care in several Hospital and care settings
Logistic efficiencies and hospital management
CAR-T cell manufacturing
The event will take the format of a speed-dating event, enabling you to take part in a series of short one-to-one conversations, followed by time for networking. Workshop participants will have the chance to exchange views with the professionals conducting the pilots, meet the innovative companies behind the solutions, evaluate their market potential, create new business partnerships, and join the dynamic healthcare AI/Robotics ecosystem we are building. The projects aim to make a lasting contribution to the digital transformation of the European healthcare sector in an ethical and inclusive way.
The workshop will be free of charge for individuals in possession of a Medica entrance ticket, and refreshments will be provided onsite. Following the workshop, you may also visit our shared Project Booth (Hall 12 / A54), where live demonstrations and video presentations will be offered.
Would you like to join?
Please fill in this form to apply by 31 October 2023 indicating your contact details and main areas of interest in relation to the pilot descriptions. Following receipt of your application, we will provide you with more detailed information to ensure that the speed-dating experience will be enriching and fun for all participants.
We very much look forward to meeting you there!
Our Parkinson's pilot studies results at the most relevant conferences...
A 26-week case study of long-term adherence to an iPhone and Apple Watch patient-reported outcomes (PRO) platform: enhancing measurement and...
See more
AICCELERATE at the Radical Health Festival
Early this week our partners participated in the Radical Health Festival in Helsinki, during the session facilitated by EHTEL, the...
See more